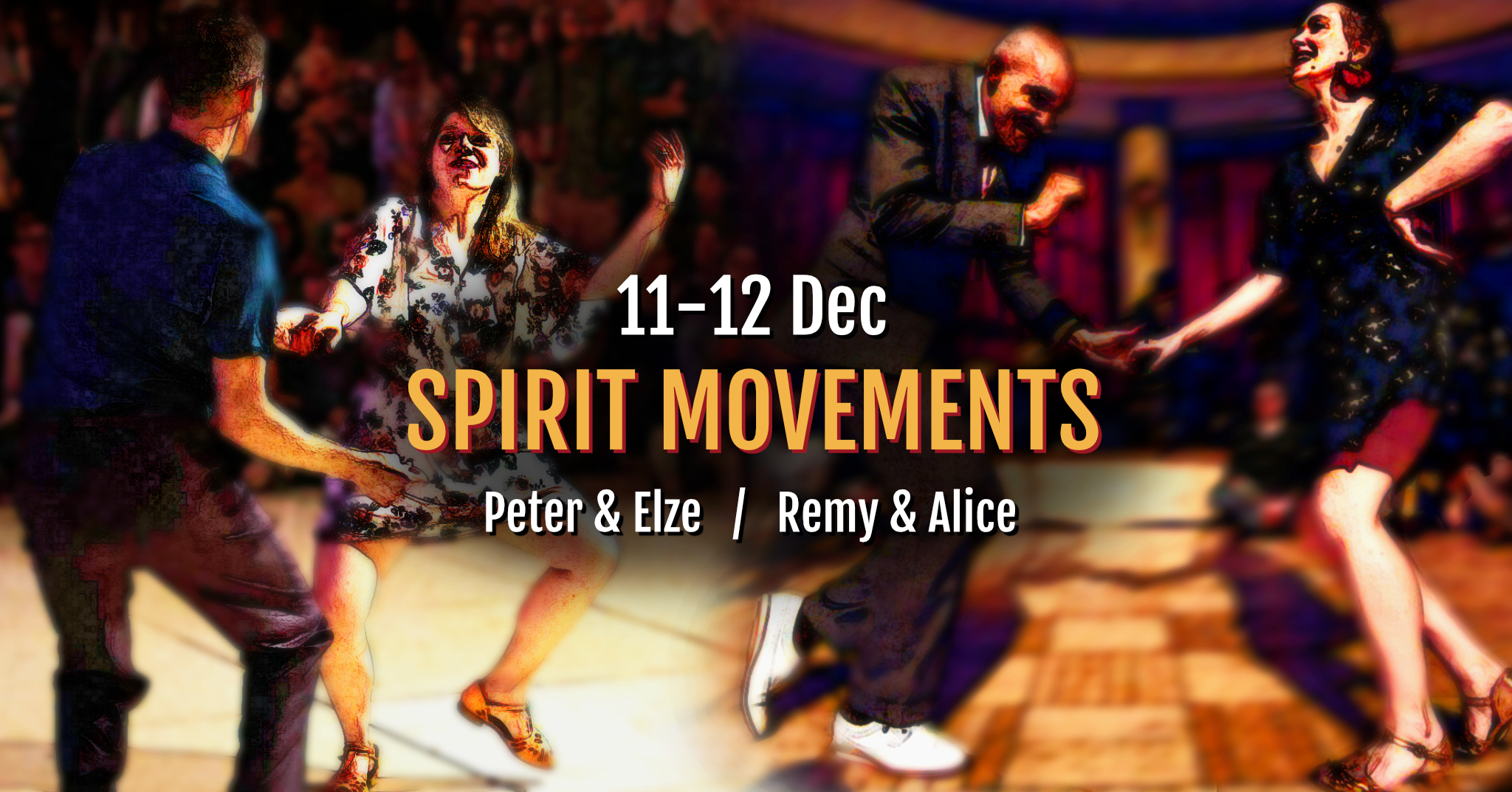 DESCRIPTION…
We're Back!!!
For those who don't know, "Spirit Movements" is a small and cozy workshop that emphasizes quality of movement, rhythm, and connection. And after much consideration and apprehension, we've decided to move forward with Spirit Movements this December! Woot Woot!
What's different? This time around our class sizes will be smaller so that more personal attention can be given to each student.
So, we're hoping to take a limited number of couples per level, and are expecting to fill up fast. If you're interested get ready!
Types of Passes
• Beginner Pass: Here is for those learning and/or revising the basics. You'll get the moves and rhythms to help you connect when you go out social dancing at the parties! 
• Intermediate Pass: Well, you know how to swing out, eh? You've danced a bit socially and are ready to take your dancing to the next step? Well in this class you can learn variations on rhythms and moves to make your dancing more experimental and improvisational! 
• Advanced Pass: This class is for the motivated dancers who have already attended international workshops and are comfortable social dancing at all tempos—Yeah, fast swingouts! In this track, you're ready to move and connect to the music and your partner in new ways! 
Teachers & Performers
Remy Kouakou Kouame & Alice Mei
Peter Kertz & Elze Visnevskyte
PRACTICAL INFORMATION
Price:
• 60 € per pass
• Each track includes 6 hours of classes (4 hours of Lindy Hop, and 2 hours of Solo Jazz)
Dates :
• 11 & 12 Décembre
Studios :
• Salle Plantade : entre 2 & 4 rue Plantade, Montpellier 34000
• Lycée Notre Dame de la Merci : 62 Cr Gambetta, 34000 Montpellier
(Entry is located on the side of the school: Rue Emilie Zola)
Admission into classes will depend on the sanitary protocol measures implemented by the government.