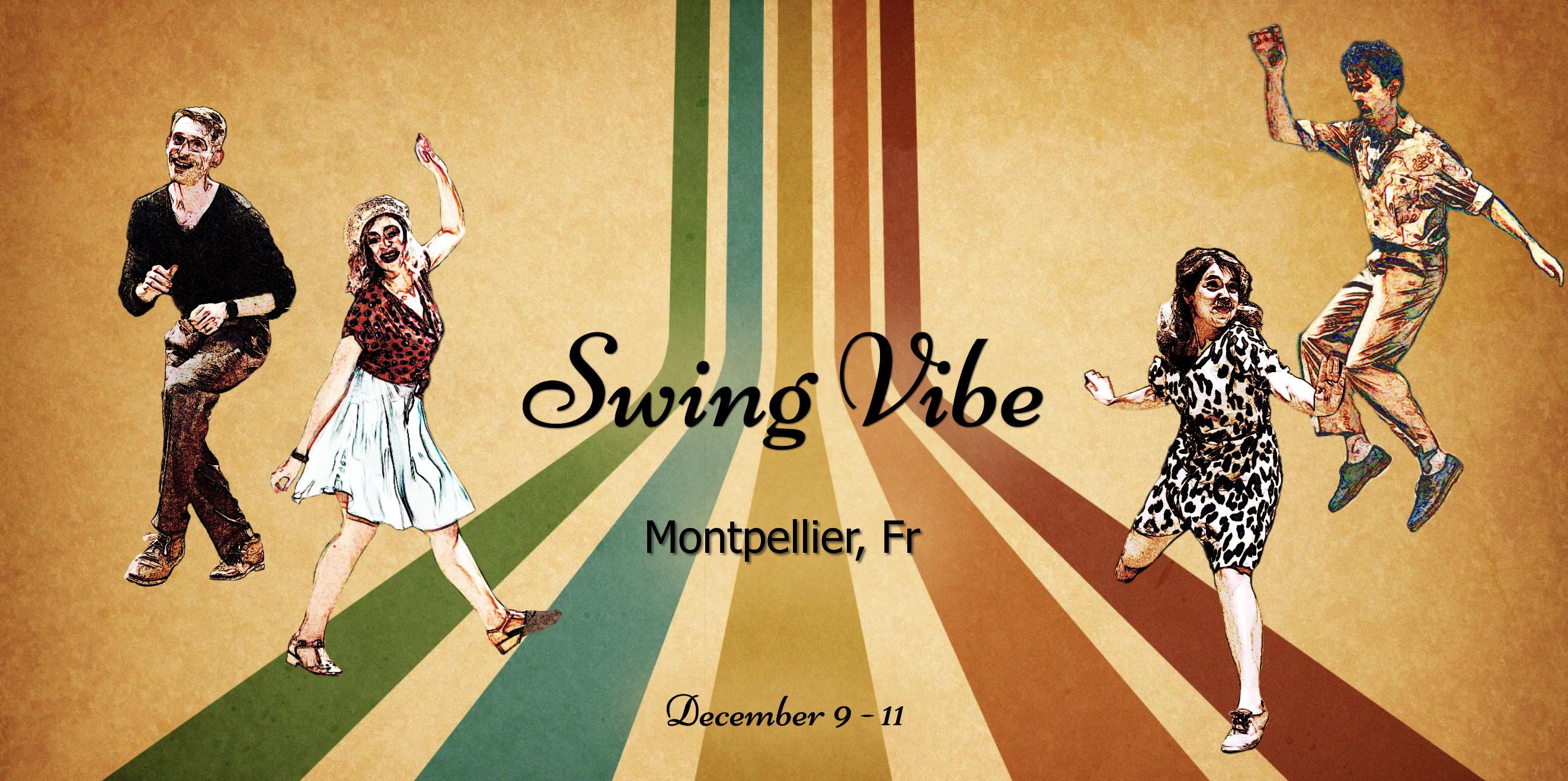 DESCRIPTION…
Join us for our first edition of Swing Vibe! Our goal is to create a cozy festival in the heart of Montpellier, France with an international group of teachers, and some of the best live swing music the city has to offer. 
Types of Passes
• Beginner (Le Pass Débutant) — Lindy + Solo
Here is for those learning and/or revising the basics. You'll get the moves and rhythms to help you connect when you go out social dancing at the parties! 
• Intermediate (Le Pass Intermédiaire) — Lindy + Solo
Well, you know how to swing out, eh? You've danced a bit socially and are ready to take your dancing to the next step? Well in this class you can learn variations on rhythms and moves to make your dancing more experimental and improvisational! 
• Advanced (Le Pass Avancé) — Lindy + Solo
This class is for the motivated dancers who have already attended international workshops and are comfortable social dancing at all tempos—Yeah, fast swingouts! In this track, you're ready to move and connect to the music and your partner in new ways! 
______________________________________________________
• Solo Jazz Only (Le Pass Solo Jazz)

This pass is uniquely for the Solo Jazz track. However, with this pass, you are free to choose between the two classes… Either you can take the Beginner / Intermediate classes to learn or revise some of the classic moves of the solo jazz repertoire, or you can take the Advanced classes to add some swag by learning new stylish footwork and intricate rhythmic variations.
PRACTICAL INFORMATION
Dates :
• 9-11 Décember
Types of Passes
• Lindy + Solo Pass : 80 €
      – 6 hours  of classes (4 hours of Lindy + 2 hours of Solo Jazz)
      – 2 parties with live music 
      – 2 hours of class, 1 hour per day 
      – 2 parties with live music 
• Pass Saturday Party:
15€ 
      – passes sold at door 
Locations :
• Salle Plantade : between 2 & 4 rue Plantade, Montpellier 34000
• Studio Planet Forme : Place Saint Dénis
(a gym where the entrance is through the back door on rue Castillhon)
• Le Réservoir : 55 Rue de Montels Saint-Pierre, 34070 Montpellier
Teachers & Performers
Peter Kertz (USA & Fr)
Elze Visnevskyte (Lithuania)
Xesc Bujosa  (Barcelona)
Alice Mei (France)

Musicians
The Naga Vipers